TV & Film
Perfect Props
From individual items to complete room settings EX Showhouse Furniture is a unique prop resource facility for the TV, Film and Video industry. Items are available to either purchase or hire and a speedy fast track packing and delivery service ensures 'dressing set' ease. From contemporary to transitional and from traditional to eclectic the range and choice of items is amazing. Simply everything, from larger structural items such as sofas, dining sets, occassional and bedroom furniture to multi syled lamps, art, object'dart and dress items, is immediately available. 
Visit The Studio
The award winning interior design and furnishing studio is located in Bearsden, Glasgow and a simple call, to book an appointment to view, is all that is needed to kick start the 'prop' process.
As seen in Film Bang (Scotland's Film and Video Directory) EX Showhouse Furniture has been a friend to the industry for over 15 years.
To name but a few...they have assisted:
View 'Filming locations and prop hire for BBC CBeebies productions of 'Woolly & Tig'.

Taggart - STV

Rebus

Rab C Nesbit - BBC

River City- BBC

Sea Of Souls - BBC

Danny The Dog- Feature film

Heartless - Ecosse TV Productions

Phoo Action - BBC

The Craig Hill Show - BBC

Irn Bru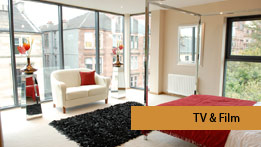 Locations To Hire
'Those in the know, know, you know!'
With their finger on the pulse and their eye focussed on properties EX Showhouse Furniture and XS Interiors have access to hundreds of 'undisclosed' properties available for filming.
Let them know your requirements and they will short list the most appropriate properties for you - saving you time and money.
Read Articles & Features
Click to View